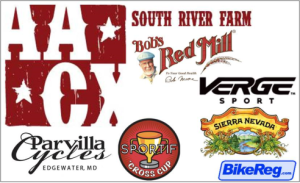 AACX is Race 3 in the Sportif Cross Cup Series and is held at Selby-on-the-Bay, MD an Anne Arundel County park on the beautiful South River. The race is presented by Annapolis Bicycle Racing Team, Parvilla Cycles & Anne Arundel County Parks & Recreation and will be held on Sat Oct 17, 2015.
Online Registration is open until Wednesday, Oct 14, 2015 at 11:45 PM ET, but day of registrations will be accepted with a $10 late fee: https://www.bikereg.com/aacxsportif-cross-cup-series

FIRST TIME RACING CYCLOCROSS??? DONT KNOW WHAT RACE YOU ARE SUPPOSED TO ENTER?? LOOK NO FURTHER!
Adult Men (19yrs and older) – Register for "Mens Cat 5" and you will need a one day license
Adult Women (19 yrs and older) – Register for "Womens Cat 4" and you will need a one day license
Teens/Juniors – Register for your determined age group based on your age as of December 31, 2016 (not 2015) and you will need a one day license. These fields are s

ponsored by Bicycle Advocates for Annapolis & Anne Arundel County to keep the cost down to $10!

Lil' Belgium's – 9 years old and down and are free and licenses are not required.
Additional Information
The $10 day-of-registration fee will NOT be collected if you bring a junior rider for race day entry (applies to registrants only).
USAC license required (one-day licenses will be available to purchase on the day of the event at the registration table).
Mountain bikes will be allowed WITHOUT bar ends.
There will be 1 double pit on the course.
Event will beheld rain or shine.
Like us on Facebook at: AACX Cyclocross, for photos of the course, sponsor updates & race news